Admission
Admission Qualifications
A bachelor or higher degree from a four-year university or Bible college/seminary with a GPA of 2.7 (B- or 80%) or above

.

For those who hold a technical degree from a three-year college.

[1]

Had been converted and baptized for at least two years.

Complete the admission application form

.

Pass the Seminary entrance tests of biblical and theological knowledge.

Pass the interview.

Proof for English proficiency. We required minimum TOEFL score of 450/45(TOEFL IBT). Applicants with a Bachelor or higher degree from English speaking schools are exempt from this requirement. For purpose of determining English speaking schools, students who graduated from an academic institution where the primary language of instruction is English may submit an official copy of transcript and diploma from their school for consideration of granting an exception. The Admissions Committee will make the final decision on whether or not the applicant is excused from taking a language exam.

Our instruction will be given in Chinese for those who are native Chinese speakers.

We do not offer or accept any Ability-to-benefit Exam.
School Calendar
Registration
The deadline of application for Fall July 31, 2021.
Semester Period
Fall 2021 begins on September 1, 2021.
Application Procedure
Please send the following materials through email to admissions@mygets.org. Please specify in the subject: xxx online course application materials.
Download, print, and carefully read through the "Admission Requirement". After signing and dating, please scan or take a picture of the document.

Download and fill out "Admission Application Form," and insert a photo of yourself taken within 6 months.

Your conversion testimony (no less than 1000 words, no more than 5000 words)

Your calling testimony (no less than 500 words, no more than 2500 words)

The diploma of your highest degree (scan or photo)

Application fee US$50.00. (This is nonrefundable even if your application is not accepted.) Please click "PAYMENT" key to pay online and specify in the memo: xxx application fee. After payment is accepted, please take a screenshot of the payment and attach the screenshot with other application materials.

Letters of recommendation from two different persons. Please ask them to send the letter through email to admissions@mygets.org and specify in the subject: xxx Recommendation Letter.
* The Registrar office will send the admission acceptance letter and the online course student handbook to those who meet the admission requirements. GETS will hold an online student orientation prior to the beginning of each semester.
* Many people have chosen to take a photo from cellphones instead of scanning the documents. Cellphone photos of application materials must meet the requirement of clarify as shown below. The Registrar office will ask you to resend those materials that do not meet the requirement.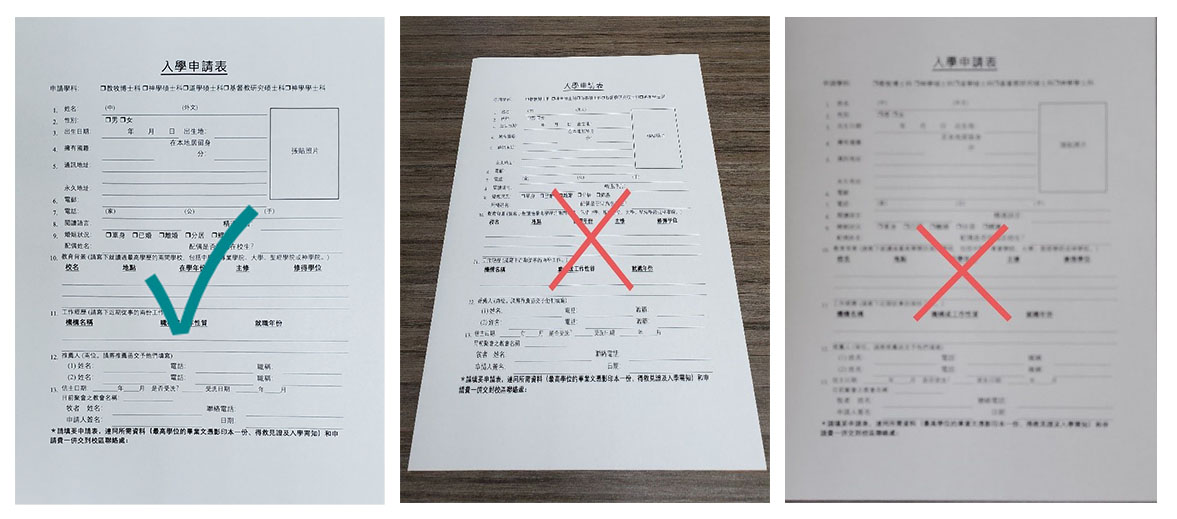 Download admission application and related forms
Please call (626) 339-4288 or email admissions@mygets.org for any assistance.
Online Course Q&A
What is the tuition fee per course? Are there any fees besides tuition fee?
Online course tuition fee is US$200.00 per credit hour. A course with 3 credit hours is US$600.00.
If I decided not to take the course before the course begins, will the tuition fee be refunded?
If you cannot participate the course you applied for, please apply for withdraw before the registration deadline (7 days before the course begins). GETS will refund the full amount minus processing fee. We are sorry to inform you that there will be no refund If you apply for withdraw after the registration deadline. Please contact your online teacher for details.
Does online course mean that I can take the class anytime?
Online courses are regulated to be completed in a semester. In order to facilitate better study results for students, the online teacher will follow up every other week. Students must turn in assignments by the deadline designated by the teacher.
---
[1] For those who hold technical degree from a three-year college (not a four-year university bachelor's degree) will need to take 12 credit hours in addition to the 60 credit-hour requirement in order to graduate with a MACS degree.